Between The Mobile App And Web App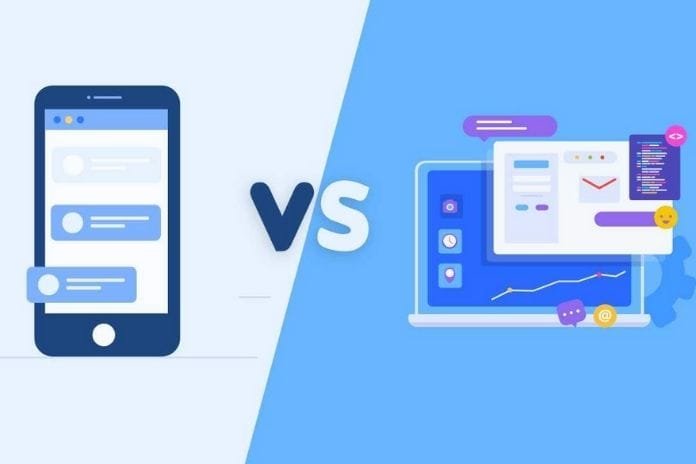 Between the two, your heart swings? Do you know the difference between the mobile app and the web app? How to link them? What is better to develop? It is still a terminology that lends itself to confusion and is often misused. We tell you everything about these two types of applications.
Mobile And Web Applications: Definitions And Differences
Given the confusion between Web and mobile applications, starting this article with a precise definition of these two concepts is appropriate.
What Is A Web App?
It is an application accessible online using a web browser, with no download required. What is a mobile app? The mobile application is intended for use on a mobile device only. It can now either be downloaded from an online store such as the App Store or Google Play Store (it is said to be a native application) or be located on the Web.
What Are The Differences?
A web application is distinguished by:
Its speed.

Its ease of creation.

Its accessibility (without installation and from any OS).

Its adaptation to all forms of the screen (responsive design). "Mobile first" is the name for applications designed only for smartphones.
A native application is characterized by the following:
A download via a virtual store.

A consultation only from a tablet or a phone.

A notification system.

A richer user experience since it uses phone peripherals such as GPS, a camera, etc.
How To Link The Mobile And The Web?
Highlighting An Application On A Site
Do you have a website, but have you also developed a mobile application? Here's how to promote it subtly and encourage its download.
The Mobile Banner
Usually located at the top of the screen, the banner is widely used for various reasons:
It does not interfere with navigation.

It is clickable and immediately redirects to a store.

It offers appropriate calls to action.

It closes permanently if the user wishes.
To have a banner, you either develop your banner or install a smart App Banner (ready to use but not customizable).
The Pop-Up Display
It appears as soon as a user arrives on the pages of your site. It is obvious and even inevitable because it imposes a reading choice on the user before he can access the content of the offer. In this sense, it can seem intrusive, even disengaging.
The Proposal For A Download From The Tree Structure Of The Website
Discreet and non-intrusive, it is ideal if the objective is not to increase application downloads.
Creating A Mobile Application From A Web Application
The use of the desktop is dethroned by the mobile. A responsive website is good, but creating an app is even better!
Native applications for iOS and Android: working offline, they offer an ideal UX using all smartphone features. On the other hand, it is expensive and challenging to create.

The PWA (Progressive Web App) represents an excellent alternative to transforming a website into a mobile app. Invented in 2015, a PWA is based on web technologies such as HTML, CSS, and JavaScript and looks like a native application. It can also be used offline.
To create a mobile application, there are three ways:
Develop the application yourself, provided you have language skills.

Ask an agency or a freelancer if you have enough budget.

Use an app builder to create easily without knowing how to code.
Optimizing The Performance Of A Mobile Web Application
A web application is not fixed; analyzing its performance frequently to optimize it is essential. Here are a few tips :
Ensure compliance of the application with standards and tools.

Use as few style sheets as possible, downloaded one at a time.

Consider a Secure Sockets Layer (SSL) optimization or analyze the source code.

Analyze the database regularly.

Compress data through a web accelerator.

Put in place protection devices against external attacks.
Is your app not getting enough downloads? Maybe it's time to consider other solutions to improve it and acquire more users:
Promote its visibility with the creation of relevant content.

Bet on a design that sets you apart from your competitors.

Make your app intuitive.

Facilitate access to its features.

Consider all operating systems.

Increase loading speed.
How To Choose Between The Web And Mobile?
A choice is necessary, and you still hesitate? Both have, it is true, advantages and disadvantages. Let's see them in detail to consider a peaceful development. Here is a brief review of the advantages and disadvantages of each of these applications.
The main advantages of the mobile app are:
Her popularity.

Its increased visibility is thanks to virtual blinds.

Its access to mobile features.

His notifications.
The main advantages of the web app are:
No need to download and update.

No taking up space.

Less cost to develop it.

It's referencing (like a website).

It benefits from the optimization work carried out for search engines.
In return, here are the disadvantages of the mobile app :
Longer publication work, platform by platform.

Significant data consumption.

An almost permanent uninstallation.

Manual updates are the responsibility of the user.
And the constraints of the web app :
Without an internet connection, it is not possible to use it.

The obligation to use the package or to connect to a box.

Specific development work to put it in responsive design format.
What medium should be favored during a launch? That's the question! As we have just seen, each has its strengths and weaknesses. Mainly remember that the mobile web app will help you generate organic traffic, but its access being free, you will not earn any money. The native mobile app, with a good communication plan, can be very profitable if its download is paid for. Your needs and your marketing strategy will dictate your choice.
Read Also: The Basics Of Security And Data Protection