Oppo Find N In The Test: Finally, Wrinkle-Free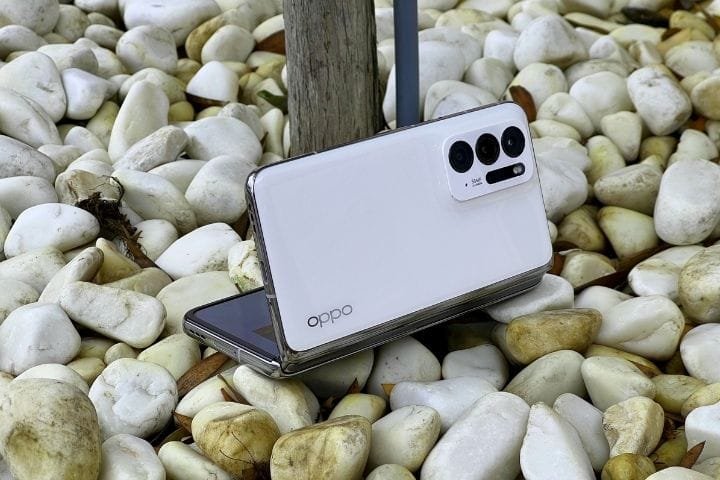 Oppo Find N – The new folding smartphone is handier than the competition, at least as fast and has a remarkable screen. Unfortunately, there is also a catch. The market for foldable smartphones is still young. Above all, Samsung is trying to take advantage of this. With the Galaxy Z Fold 3 and the Z Flip 3, the company wants to position itself as "the" brand for so-called foldables.
But now, the cell phone manufacturer Oppo is trying to compete with Samsung. On Wednesday, the company presented its alternative to the Z models, the Oppo Find N. I've been testing it for a week. In case the company name doesn't mean anything to you: In its home country China, Oppo is the second largest supplier of smartphones with a 20 per cent market share, just behind Vivo. However, it is questionable whether the Find N can be a milestone on the way there. But more on that later.
At first glance, the Find N looks almost like a copy of Samsung's Galaxy Z Fold 3: it is folded along the vertical, has a 5.49-inch external screen and a 7.1-inch internal screen. However, these numbers are a distinguishing feature compared to the Z Fold 3: The Oppo folding phone is smaller.
Oppos managers argue that this makes it easier to hold when folded, but that's not entirely true. Because the Z Fold 3 is also easy to maintain because it is very narrow. However, with the Oppo model, it's easier to get your thumb into all corners of the screen, which I can't do with the long Samsung.
Almost Square, Practical, Good?
Another difference seems more important to me: The Find N has a different geometry; the inner screen opens in an almost square landscape format (aspect ratio 8.4: 9). On the other hand, Samsung's display begins in a portrait format. Whether you like one more than the other certainly differs from person to person.
The large screen naturally offers a lot of space for many apps, and multitasking with several app windows is also possible in moderation. But when watching movies, you have to accept the inevitable thick black bars.
However, the Find N lacks direct comparison in the crease in the middle of the screen, visible on Samsung's models. A significant advantage from my point of view is that I can't look past Samsung's fold. In addition, there is the pleasantly smooth hinge with which the display can be set up at any angle from around 60 to around 120 degrees. It closes at smaller angles and opens at larger angles.
The quality of the two OLED screens can be described as good to very good. The indoor display also shines with a refresh rate that varies dynamically between 1 and 120 images per second. This is good for the eyes and the battery.
However, there is an explicit dependency on the viewing angle of the inner display. Depending on which direction you look at it, it seems sometimes lighter, sometimes darker. But: if you like, you can also make handwritten notes or draw on them. And without a special pen, one finger is enough.
Five Cameras
Oppos Find N is also well-equipped for cameras: both screens have 32-megapixel cameras for video chats and selfies. Both are useful if you turn off the image enhancement functions.
There are three cameras in a discreet hump raised from the housing on the back: a 50-megapixel wide-angle camera with f / 1.8, a 16-megapixel ultra-wide-angle camera with f / 2.2 and a 13-megapixel telephoto camera with f / 2.4.
This trio delivered consistently good shots in my test shots, although some of them seem a bit too colorful. In night mode, however, the Find N produces delightful photos.
The Technology: Oppo Find N
With so much attention paid to the exterior, don't forget the innards. Qualcomm's Snapdragon 888 chip delivers plenty of power. The version with 256 gigabytes (GB) can access 8 GB of RAM; the 512 GB version has 12 GB of RAM.
Bluetooth 5.2, Wifi 6, and 5G mobile communications are on board with this equipment. Unfortunately, an eSim is not included, but two slots for physical SIM cards. The Find N can also be charged wirelessly. Almost unusual nowadays: in addition to the obligatory charging cable, there is also a power supply in the box – but in my test device, one for Chinese power grids.
This brings us to the catch that the Oppo Find N carries around with it. At the same time, it should go on sale in China from December 23rd – if you will, just in time for Christmas.
That is unfortunate. Oppo could give foldable smartphones a fascinating new touch with the Find N. Especially since it is offered comparatively cheaply in China at 7699 yuan, around 1073 euros. But as long as this has not been clarified, it would be premature to evaluate the fold-free finally.