S/W For Opticians& Optometrists For Optimal Shop Management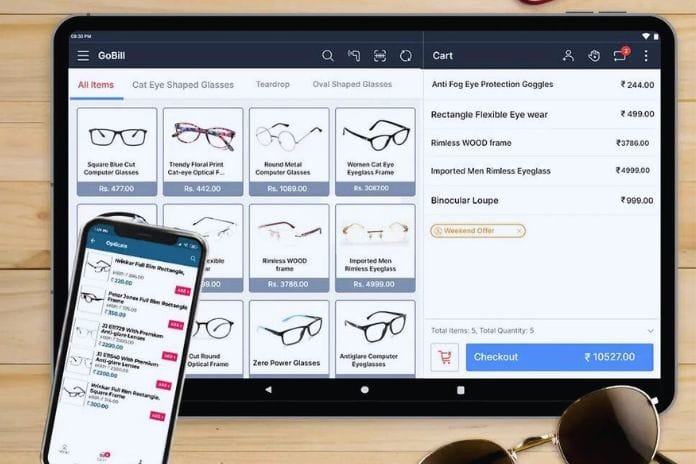 Optician software is designed to help optometrists and optical shops manage their day-to-day business. These programs can only partially replace the personal shopping experience and advice opticians provide. Still, they can improve store efficiency and productivity and enable you to offer better customer service. The solutions on the market are diverse, with features that can include sales management, customer health records, eyewear prescription support, inventory management, and more. Choosing the solution best suits your needs is fundamental to growing your business.
What Is Eyewear Software?
Optician software offers solutions to facilitate the management of daily activities and improve opticians-optometrists' efficiency in their work. These programs offer a broad range of features and tools to meet the industry's specific needs and help optical stores more efficiently manage business operations, reduce errors, and improve the customer experience.
In general, these are modular management software so that opticians-optometrists can choose only the functions they need and possibly integrate others in the future should new needs arise. With the automation and streamlining of processes offered by these programs, more time and resources can be dedicated to customer care and business growth.
What Are Eyewear Software For?
The goal of those who develop software for opticians is to provide a tool to improve the efficiency and organization of the daily operations of opticians-optometrists. To do this, several features are offered that help simplify and streamline the various tasks. The main features offered by the software for opticians include:
Patient Management: These programs allow you to manage appointments, keep records with personal information, medical records, and appointment scheduling.

Eyeglass and Contact Lens Prescription – Optician software provides diagnostic tools to determine and generate eyeglass and contact lens prescriptions, considering factors such as refraction, corneal measurements, astigmatism, presbyopia, and other necessary vision corrections.

Inventory Management: These programs allow you to have an electronic archive of what is in store (eyeglasses, contact lenses, and other optical products), keeping track of stock and automating orders for efficient sales management.

Billing and Accounting: Integrate with POS systems and allow you to manage billing, payments, insurance, and generate accounting reports.

Marketing: using customer information, they allow you to create targeted marketing campaigns to retain them and attract new ones.

Reporting and analysis tools: Optician software allows you to create reports and perform analyses to help optical store owners make informed business decisions.
How Eyewear Software Works
Once you have chosen the most suitable optician software for your needs, the first step will be the installation which can be done on your computer or a server. Subsequently, you will have to proceed with the configuration with the specific information of the optical-optometrist practice (patient settings, available products, suppliers, rates, and more).
Generally, these programs are cloud-based and can be used from any Internet-connected device, such as a computer, tablet, or smartphone. The configuration phase is essential and can take a long time because it may be necessary to interface the software with other existing systems, such as POS, and dedicate a training period for employees.
The next step is to register patients with their details such as name, address, telephone number, medical data, and visit history. You must also build an inventory of eyeglasses, contact lenses, and other optical products to monitor stock and manage orders efficiently. Once the initial configuration has been performed, the software can be used in all its functions, starting from planning and managing appointments.
Users can view a calendar overview, check availability, book new appointments, and send patient reminders via text or email. The software allows you to process orders quickly and easily and add customer data, prescriptions, lens choices, special notes, and delivery instructions. In addition, they can generate order confirmation and automatic order status alerts. Prescriptions can be viewed and changed at any time.
These programs also allow you to generate patient invoices, record payments, manage insurance, view client balances, and generate financial reports. The security and privacy of patient data is ensured through encryption, password-protected access, and regular backups. The vendor periodically makes updates available to improve functionality, fix bugs and ensure regulatory compliance.
The Advantages Of Using An Eyewear Software
If you adopt the right eyewear software for your business needs, you can get many benefits. Here are some of the key benefits of optometrist software:
Customer Satisfaction: this software allows you to store customer information, prescriptions, and orders, allowing you to offer personalized and better service. They also provide advanced tools to perform refraction tests and accurately determine eyeglass prescriptions, improving patient vision quality and overall satisfaction.

Increased Operational Efficiency: By automating and simplifying daily tasks, time can be saved and human errors reduced, improving overall work efficiency.

SimplifiedI Inventory Management: Optician software allows you to monitor the items in your warehouse, reducing the possibility of shortages or overloads and improving the planning of replenishment orders.

More Accurate FinancialI Control: These programs automate the billing and payment management process. This reduces billing errors, makes it easier to manage patient payments, and can track finances more accurately.

Regulatory Compliance: Optician software is designed to comply with data privacy laws and regulations, ensuring that patient information is handled securely and in compliance with current regulations.
Costs Of Software For Opticians And Limits
The costs of the software for opticians vary according to the features offered, the number of users, the customization options, and the licensing model chosen. There are typically two licensing models available: lifetime licensing and subscription. The lifetime license allows you to use the software unlimitedly, but the upfront costs are usually higher than the subscription model.
The cost of the subscription model can be on a monthly or yearly basis. This model may be more flexible regarding payments but may incur higher long-term costs than purchasing a license. Before choosing eyewear software, reviewing multiple offerings, comparing features, and requesting custom quotes to understand better ​​the cost is a good idea. In addition to the high cost, some eyewear software can require time and resources for setup, data import, and staff training.
Also, the program may have limitations in customizing the features or interface. Finally, the aspect relating to the technical support offered and updates should be considered. In the future, it may be necessary to update the optician software to take advantage of new features or fix any bugs, which may incur additional costs. All these limitations and specific needs must be carefully evaluated before choosing software for opticians. Help could come from consulting with colleagues and evaluating the demos or trial versions often made available by the various suppliers.
Five Software For Opticians And Optometrists
Iris
Iride is a complete solution for managing all the activities of an optical center. This software lets optometrists digitally record, organize and manage patient health information. The functions range from customer records with relative recipe cards, medical history, optometry, glasses, and more, to warehouse management with access to the price lists of the major suppliers on the market.
It supports automatically sending all fiscal documentation through the Health Card System and is compatible with Wacom graphics tablets for electronically signing documents. Ramsoft Informatica Srl creates Iride and is available in 4 versions, with prices starting from 199 euros. You can also request the APPBOOK ME application, which allows customers to book a checkup, order contact lenses, and more.
Pupil
Also available in a free version, Pupilla is a management software designed for optical centers. The functions offered primarily cover the Customer Management area, with modules for managing all customer data with personal data, Optometric and Refraction data sheet, the glasses data sheet, and contact lenses data sheet. Then there is Warehouse Management for loading and unloading items, support for barcodes, inventory management, and statistics for monitoring sales.
Finally, there is the whole part for document management in digital formats, such as invoices, credit notes, estimates, transport documents, and more. The free version allows up to a maximum of 600 entries. For greater needs, you can choose the Starter version for 99 euros with 2000 registrations, the Business version for 159 euros with 4000, or the Premium version for 239 euros with unlimited registrations.
Optix
Optix is ​​a completely cloud-based eyewear software. Therefore, no installation is required, and it can be used from a computer, tablet, or smartphone, wherever you are, provided you have an available Internet connection. The features offered include customer/supplier management, optometric cards, warehouse management with inventory, and more.
It allows you to manage the entire accounting part, from electronic invoicing to the Health Card System integration. This program also provides reports to monitor the performance of the optical store and marketing features, such as automatically sending emails and text messages to improve the customer experience.
The vendor provides APIs to allow easy integration with other software. Optix is ​​available in 3 subscription options: BASIC at 25 euro/month/user for up to 3 users, BUSINESS at 40 euro/month/user for up to 10 users, and ENTERPRISE at 50 euro/month/user for up to 30 users.
WINeyes XPS
This software offers an intuitive, modern, and dynamic interface through which it is possible to access all the functions such as customer management, inventory with item lists, and statistical analysis useful for keeping the progress of the activity under control. It also offers the possibility of activating the WINeyes Smart Login function to access and block the program by simply holding a card close to a special reader.
WINeyes XPS also provides a cloud-based version to store data on IT Experience servers and be able to access it from anywhere and at any time. There is also a tablet version and the possibility of requesting the development of a customized app with which customers can shop, book an appointment, receive coupons, notifications, information on how to reach the store, and more.
Optical Project 7
Finson Progetto Ottico 7 is management software for opticians and eyewear stores. It is designed to automate and streamline the daily operations of an optical business, including sales management, order management, appointment management, inventory, billing, customer management, and other related functions.
It is a complete program with which it is also possible to create prescriptions for lenses, generate estimates and send data for 730 through the healthcare system. It is sold with a lifetime license for 199 euros, allowing the installation of up to 5 workstations on the local network. You can download and try a 30-day demo version.
Read Also: How To Install Updated ROMs With Open Android Installer