Samsung Galaxy S23 Vs S23+ Vs S23 Ultra?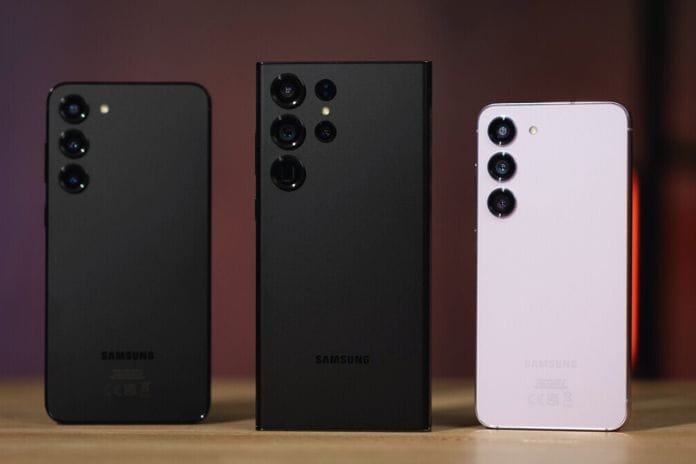 Are you looking for a new smartphone that will replace your current phone? Then you will certainly be delighted to know that the new Samsung Galaxy S23 range is finally available! Presented this week, it promises to be a new hit, and you are right to want to know more about these 2023 flagships from the South Korean giant. We, therefore, give you all the details to help you make your choice. Discover these new models that will undoubtedly be unanimous this year.
Global Presentation Of The Three Smartphones: Their Common Points
Before starting the comparison between these three models, let's first see the similar points. The Galaxy S23, S23+, and S23 Ultra are the most powerful and innovative phones Samsung has ever made. Equipped with 120Hz refresh Amoled displays, up to 1750 nits brightness, and a powerful Qualcomm Snapdragon 8 Gen 2 processor, these smartphones give you a very fast and smooth experience.
You get an ultra-fast wireless connection with 5G and Wi-Fi 6E connectivity. Protected against bumps and scratches by Gorilla Glass Victus 2, these 3 Galaxy S23 models work with Android 13 and version 5.1 of the Samsung One UI overlay. To top it all off, selfie lovers will be delighted, as their front sensors consist of a 12MP, a 12MP ultra-wide-angle, and a 10MP telephoto lens for 3X zoom.
Galaxy S23 For A Compact And Powerful Smartphone
If you're looking for a high-end, powerful, yet compact smartphone, you only have a few choices in the market. Fortunately, Samsung is offering the Galaxy S23 this year, a 6.1-inch smartphone that is the most powerful and well-equipped in its class. According to figures announced by Samsung, its only competitor, the Asus Zenfone 9, has the Snapdragon 8 Gen 1, which is less powerful than the 8 Gen 2.
On the camera side, Samsung does not let go! The S23 offers a triple photo module with a telephoto lens for 3x optical zoom. An excellent partner in your daily life that allows you to take quality photos, even in low light conditions, thanks to the artificial intelligence integrated into the processor.
Its Strengths
Ultra-thin dimensions: 7.6 mm thick and 167 grams

6.1-inch screen with an adaptive refresh from 48 to 120 Hz

425 dpi high resolution and exceptional brightness

Power equivalent to larger products

Triple camera including a telephoto lens with 3x zoom despite the compactness

Battery more powerful than ever: 3900 mAh
Galaxy S23+ For A Big-Screen, High-Performance Phone
The Galaxy S23+ is the perfect model for users who want to enjoy a big screen without paying the Ultra's full price. And contrary to what one might think, this model offers remarkable finesse and lightness while extremely powerful to satisfy players. It can carry a high capacity 4700 mAh battery and benefits from the same 45 W fast charge as its big brother, the Ultra. This S23+ undoubtedly has sufficient arguments to seduce its audience.
Its Strengths
A large 6.6-inch display, with 48-120Hz adaptive refresh

An increased battery capacity of 4700 mAh

A very fast charge of 45 W like the Ultra

Extreme thinness (7.6 mm thick)

Large storage capacity (up to 512 GB)

Assets for gaming thanks to its power and large screen

It weighs less than 200 g despite its glass and aluminum structure
Galaxy S23 Ultra For An Ultra-Perfect Image And An Extra Powerful Smartphone
The Galaxy S23 Ultra is the benchmark for versatile smartphones perfect for photographers. The screen measures 6.9 inches and has a rechargeable battery to keep you browsing for hours. The 12GB RAM and 1TB storage give the user enough power and speed to handle all their applications. This smartphone has a 200-megapixel sensor and night features that promise shots of exceptional quality. Thanks to its integrated stylus, the Galaxy S23 Ultra is perfectly suited to the most demanding uses and is distinguished by its price, between 1419 and 1839 euros.
Its Strengths
Its 6.8-inch LTPO display displays Quad HD+ quality at 500 ppi and offers adaptive refresh from 1 to 120 Hz

A 5000 mAh battery with 45 W quick charging

Up to 12GB of RAM and 1TB of storage, powered by a high-end processor

A 200 Mpx main photo sensor for superior-quality shots

A 10MP telephoto lens for 10x optical and 100x digital zoom

A built-in stylus for precise drawing and note taking
Price Level Comparison
Although the Samsung Galaxy S23 is the most affordable of the three Galaxy S23 models, at 849 euros for the 128 GB model, the Galaxy S23+ is slightly more expensive, at 1049 euros for the 256 GB model. He, the most expensive, at 1249 euros for the 256 GB model with 8 GB of RAM. If you are looking for a Galaxy S23 device that meets your needs and budget, the price can be a determining factor when making your choice.
Zoom On Display And The Screen Of The S23 Models
The Samsung Galaxy S23 has a 6.1-inch screen offering a Full HD+ resolution of 2340 x 1080, resulting in a pixel density of 425 ppi. The S23+ offers a similar resolution, but the screen is slightly larger at 6.6 inches, with a pixel density of 398 ppi. The S23 Ultra is even bigger, with a 6.8-inch display and Quad HD+ resolution of 3088 x 1440, resulting in a pixel density of 500 ppi.
This curved screen supports the S Pen, while the S23 and S23+ have flat screens that can't be used with the S Pen for those who like to take notes with their screen. All three devices support HDR10+ and feature Gorilla Glass Victus 2 for added protection. They all support a variable refresh rate of 48-120Hz for an always-smooth and responsive experience.
In Summary: Which One To Choose?
While the Samsung Galaxy S23 series looks as good overall as the previous year's S22 series, the Ultra model looks to be the big favorite on our best phones list and a device that might be able to compete. Both the S23 Plus and the base S23 have only minor variations. The latter is the same as the former in terms of processor, RAM, cameras, and design, except that it has a bigger screen and battery to go along with it and that it is available in a higher storage option.
Like the S22 models, the S23 Plus offers 45W charging instead of 25W but also costs more. Your decision to buy one or the other will likely come down to your desire (and affordability) for a bigger screen. In the meantime, the S23 Ultra is again in a league of its own. Thanks to the increase in the main camera to 200 Mpx, its photographic capabilities are even more spectacular. It also has a more powerful adaptive screen, additional RAM, and storage options. Of course, the S Pen is another option; if you want it, go for the Ultra.
Read Also: Google Duo: How The Video Calling App Works