Samsung Or Apple Tablet: What To Choose In 2023?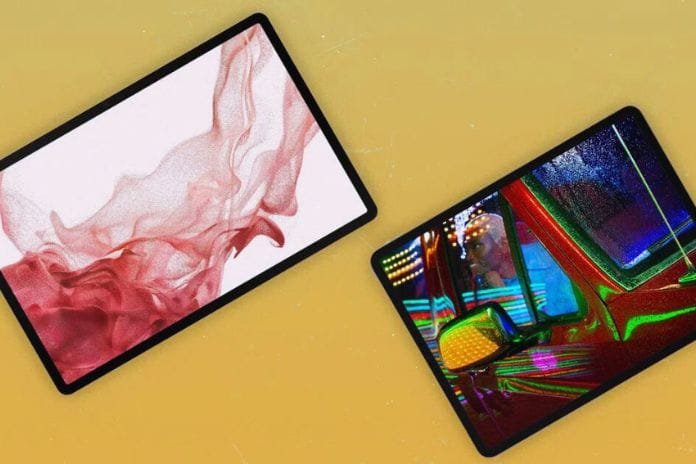 If you are looking for the best tablet in 2023, you must decide between an iPad from Apple and a tablet developed by Samsung. It must be said that these two behemoths dominate the market today. To help you choose, here's what you need to know about these little gems of technology. Let's go!
Samsung Tablet, A Versatile Device
Generally, a Samsung Galaxy tablet is powered by either an Exynos processor or a Snapdragon processor made by Qualcomm. For example, the recent model of the South Korean giant, more precisely, the Samsung Galaxy Tab S8 Ultra, has a powerful Snapdragon 8 Gen 1 processor. This allows the device to launch and manage any task with fluidity, including the most resource intensive.
Regarding storage capacity, Samsung tablets are a cut above iPads. Unlike Apple products, they indeed support external memory. For this, they include a slot for a microSD card. This is very interesting, especially for professionals who save large video files. Regarding the screen, the devices stand out for the use of OLED panels.
Compared to LCD, this technology provides high brightness and optimal contrast. But it is especially at the black level that the OLED screen shows its superiority. And as more was needed, it became less thick and lighter. In short, users enjoy a better viewing experience regardless of the circumstances. Are you a drawing lover? Like the iPads, the South Korean firm's tablets also have a stylus.
But the big difference is that this tool is most often delivered with the device, so the user does not have to pay a penny. At Apple, you have to get the stylus separately. Finally, regarding autonomy, Samsung tablets are almost on par with iPads. Special mention to the Galaxy Tab S8 Ultra, which can take more than 10 hours due to its 11,200 mAh battery. If you are in a hurry, be aware that, in general, these tablets are compatible with the adaptive fast charging function. The battery will recharge in record time.
The Strengths Of Samsung Tablets
A high-quality screen that delivers sumptuous images

A precise stylus, easy to handle and above all, free

Expandable memory through the microSD card reader

Super fast battery charging

A powerful and quality processor
The iPad, A Powerful Tablet
One of the particularities of iPads is that they are equipped with a chip (M1 or M2 for the iPad Pro) capable of offering exceptional performance. Indeed, the M2 chip has an 8-core CPU and a 10-core GPU. In addition, it can support up to 16 GB of unified memory. Thanks to such specifications, the iPad can easily perform the most complex and voluminous tasks, such as photos or video.
Note that the new iPad Pro makes it possible to take videos in ProRes format. Gamers demanding in terms of graphics also find their account. Regarding storage capacity, the tablets designed by Apple can save many files. Some iPads even suggest up to 2TB. However, extending this capacity is impossible since there is no dedicated slot for a microSD card. This is not the case with Samsung tablets.
As for the display, most iPads have an LCD screen or a mini LED panel for recent models. And although these screens can provide a more than correct visual rendering, it must be recognized that the OLED screens fitted to a certain number of Samsung tablets have a small head start. For the pros of drawings and other illustrations, it is possible to obtain the Apple pencil, a tool of excellent precision.
Compared to the first model, the 2nd generation Apple pencil gives you great responsiveness and better ergonomics. In addition, this tool is now detected up to 12 mm above the screen. To recharge it, snap it to the edge of the device, which is very convenient. On the autonomy side, Apple iPads can take an average of 10 hours on a single charge. As a result, users are quiet for a whole day. A real asset for professionals who have to travel frequently. Note that the models designed by Apple are compatible with fast-charging technology.
The Strengths Of iPads
A processor with incredible performance

An ergonomic and highly precise Apple Pencil for drawings

A satisfactory autonomy

Perfect synchronization with the iPhone

The high stability of the iOS operating system
Our Verdict
Choosing between a Samsung or Apple tablet is complicated, given that each device has specificities. The best is to bet on the tablet that can fully meet your needs. For example, if you plan to use the device only for entertainment purposes such as web browsing, video watching or gaming, then consider Samsung tablets. On the other hand, if you plan to use it more as a working tool for editing videos, creating drawings or performing other complex tasks, it is more advisable to turn to iPads. These are both powerful and efficient thanks to their M1 or M2 chips. Another criterion to take into account concerns the price.
Read Also: Social Media: How To Communicate Well?