Sony WH-1000XM5 vs Bose 700: Which One To Choose?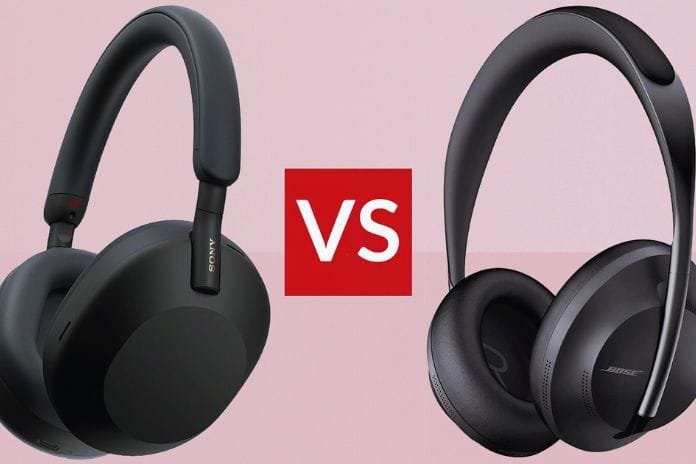 With so many options available in 2023, knowing which wireless headphones to choose can be challenging. Coming into the high-end category, the Sony WH-1000XM5 and the Bose 700 stand out as two of the best choices in today's market. This is thanks to exceptional sound quality, superior noise reduction and advanced features. You're in luck if you're looking for headphones for listening to music or for professional use. By reading this article, discover each model's key characteristics, accompanied by our experts' analyses.
Sony WH-1000XM5, The Latest Headphones From Sony
The Sony WH-1000XM5 are premium wireless headphones that combine excellent sound quality, high-quality noise reduction, long-lasting battery life and advanced features. If the sound quality is so appreciated, it is thanks to an integrated digital audio processing technology. This allows a balanced reproduction with deep bass, clear midrange and precise treble.
The headset's compatibility with high-end audio codecs such as LDAC, aptx HD and AAC ensures superior wireless audio transmission. Incorporating advanced adaptive noise reduction technology, the Sony WH-1000XM5 can analyze surrounding noise in real-time and automatically adjust noise reduction according to the sound environment. In addition, its Ambient mode allows you to hear ambient sounds clearly without removing the headphones.
Added to this is the possibility to connect with the Sony HeadphonesConnect application, which allows you to customize audio settings, adjust noise reduction, control music playback and update firmware. One of the most appreciated aspects of the Sony WH-1000XM5 is that it has a battery life that extends up to 30 hours with noise reduction activated and up to 38 hours without noise reduction.
A quick charge function is added to recover 5 hours of autonomy in just 10 minutes of charging. In terms of design, the Sony WH-1000XM5 has nothing to envy the others since it has a very elegant and sophisticated appearance. Its padded headband provides optimal wearing comfort even for extended periods, and its ability to fold guarantees great ease of storage.
But that's not all, since it offers several advanced additional features. These include support for voice assistants, Speak-to-Chat (automatically pauses music and turns on Ambient Mode when the user begins to speak) and Adaptive Sound Control (automatically adjusts noise reduction of noise depending on the sound environment).
The Strengths Of The Sony WH-1000XM5
The Sony WH-1000XM5 is one of the best headphones available in 2023. Here are the key points that make it strong:
Excellent sound quality

Exceptional noise reduction

Optimum comfort

A very satisfactory autonomy

A host of smart features

Particularly robust build quality
Weaknesses Of The Sony WH-1000XM5
Although it presents itself as one of the best choices in headphones today, the Sony WH-1000XM5 has some flaws. We usually talk about:
A high price

Poor quality microphone

An unmodifiable design

Difficulty connecting properly to mobile applications

Relatively high touch sensitivity

The absence of a Jack plug
Bose 700, A Gem Of Technology
Officially released in 2019, the Bose 700 are premium headphones with remarkable sound quality. This is due to deep bass and particularly clear sound. Also, to guarantee a natural and immersive sound, its speakers have worked to offer a balanced and coherent frequency response. The Bose Music application is added to customize audio settings, noise reduction levels and touch controls.
And as if that weren't enough, it offers a firmware update option to keep the headset updated with the latest features. It features state-of-the-art active noise reduction technology that promises high-performance active noise cancellation. This is developed to suppress distracting background noise in noisy environments effectively. It is associated with a transparency mode that allows the user to hear the noises around without removing the helmet.
Although it was released 4 years ago, the Bose 700 has nothing to envy to current headphones. This is thanks to smart features such as the eight-way microphone system (ensures an exceptional hands-on reading experience), intuitive touch controls (allows easy control of music and calls) and the ability to access voice assistants (Google Assistant/Amazon Alexa).
Design-wise, the Bose 700 combines a pure form with a stainless steel finish for a very modern look. It is light, and soft ear pads make it very comfortable to wear, even for long periods. Finally, regarding autonomy, it has a battery that lasts up to 20 hours, which can be enough for a whole day of use. An audio cable comes for wired use if needed.
The PPositive Aspects Of Bose 700
The Bose 700 headphones are an excellent choice for audiophiles and professionals looking for high-end headphones. Here are the key features that make it strong:
State-of-the-art active noise cancellation

Very high-quality sound quality

An elegant design

Unparalleled wearing comfort

Various smart features
Ability to connect with the Bose Music app
The Limitations Of The Bose 700 Headphones
Despite its many advantages, the Bose 700 has some weaknesses, such as:
A relatively high price

Non-adjustable noise reduction

Below-average battery life

Limited features

A non-folding design
Our Verdict
Choosing between the Sony WH-1000XM5 headphones and the Bose 700 will come down entirely to personal preference and what you plan to do with them. If you want better quality active noise reduction, we recommend the Sony WH-1000XM5, which uses HD active noise reduction technology. This guarantees a more complete and personalized experience.
Conversely, the Bose 700 is the most appropriate choice if you prioritize sound quality. This is thanks to deep bass, crystal clear sound, and a balanced and coherent frequency response. Enough to guarantee a natural and immersive rendering.
For those looking for longer use, it seems natural to choose the Sony WH-1000XM5, which has a maximum autonomy of 38 hours compared to 20 hours for the Sony 700. On other aspects, such as manufacturing quality, the two models come together with a design in choice materials. The same is true for advanced features, Bluetooth connectivity, touch control and access to voice assistants.
Read Also: What To Do With Old Phones?