Tech & Digital: 5 Exceptional Shows Not To Be Missed In 2023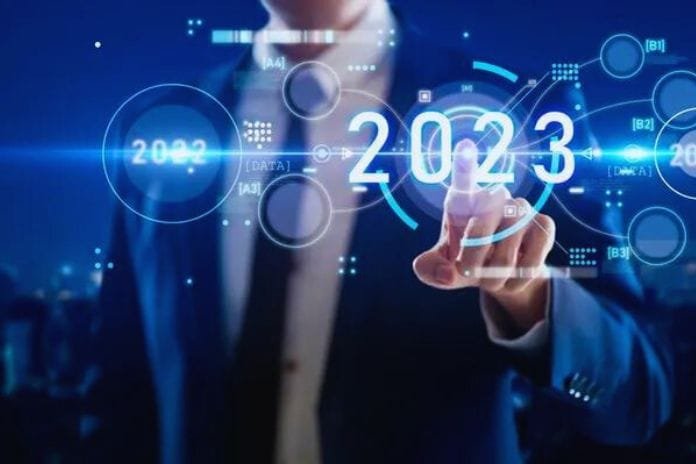 In 2023, Paris will be, more than ever, the capital of digital and Technology. After 2022, the resumption of face-to-face events, exhibitors, speakers, and international experts will be there. We have selected 5 must-see trade shows for entrepreneurs, marketing and communication specialists, and Tech enthusiasts from all sectors.
Are you looking for providers or inspiring leads for your digital marketing strategy? Are you a consultant, teacher or student, and would you like to learn about blockchain, Web3 and e-commerce trends? Do you want to exchange with professionals, develop your network or forge partnerships? Save the date(s)!
E-Marketing Paris: March 28, 29 and 30, 2023
The Digital Marketing Professionals Fair, 3 days 100% dedicated to marketing, has a rich program and many surprises. For this 15th edition, the organizers, who expect 16,000 visitors, have chosen to integrate an essential eco-responsible component in a world facing major environmental and climatic challenges.
The Trade Show For Digital Marketing Professionals
E-Marketing Paris is the unmissable meeting place for directors, managers and consultants (Marketing, communication, IT, etc.) from all sectors of activity for the quality and variety of its exhibitors. 285 specialists in Content Marketing, Mobile Marketing, Social selling, e-advertising, and audience measurement… will be gathered to present their know-how and solutions; enjoy!
A Complete And Interactive Program
The 2023 edition invites all players in the ecosystem to adopt BISOU marketing and to focus their strategy on the 4Ps (People, Planet, Purpose, Profit). Without revealing everything, the BISOU consists of anticipating consumer questions thanks to 5 questions corresponding to the keywords, Need, Immediately, Similar, Origin and Useful. In short, do I need to make this purchase? Right away? Do I already have a similar object?
Where does this product come from? And what more will it bring me? A concept aimed at enabling professionals to support the transition and the evolution of mentalities to avoid overconsumption. The organizers offer a varied program, including: The discovery or deepening of current themes associated with implementing better consumption during 200 plenary conferences, workshops and workshops.
The opportunity to listen to testimonials, Success Stories, and advice from committed brands and discover new virtuous concepts that boost transformation. The presentation of unique tools to help you rethink your business strategy, align it with consumer BISOU expectations and make the ecological transition desirable. An inventory of the performance of Super Apps, innovative communication/distribution channels to be favored and solutions advocating durability, repairability, anti-waste and the second hand.
SEO/SEA/SMO strategies, referencing, net linking, affiliation, PR/Media/Influence hybridization, and decision-making based on "social data",… all the essential methods will be presented. You will know everything about the evolution of KPIs (Key Indicator Performance) and other indicators that now measure the effectiveness and impact of actions differently. It's a safe bet that these few days will help give you many keys, such as those for:
Imagine new marketing offers based on a circular, local, more inclusive economy to integrate into the CSR culture of your structure ideally.

Guide you towards the Sustainable Development Goal (SDG) most aligned with your action among the 17 defined in the 2030 Agenda.

Inform you and prepare you ideally for the coming decades. What's new in Google Ads 2023, video trends, measuring the return on investment (ROI) of social networks, CRM, collecting qualified leads… the list is still long; just be there.
Practical Information
The show will be held at Paris Expo Porte de Versailles – Pavillon 5, Tuesday, March 28 (9 a.m.-6 p.m.), Wednesday, March 29 (9 a.m.-8 p.m.) and Thursday, March 30 (9 a.m.-5 p.m.). You can request your badge for free by creating/using a We U account with a professional email address. Also, remember to book your participation in expert conferences and solutions workshops.
Vivatech Paris: From June 14 to 17, 2023
This international meeting which connects startups, visionary talents, large companies, organizations and investors worldwide, is a real business and innovation booster. An unmissable Tech show, VivaTech brings together a community that responds to the main current challenges and acts to move the boundaries of entrepreneurship. The organizers expect 91,000 participants from more than 146 countries and announce 2,500 exhibitors. The country honored for this 7th edition is the Republic of Korea.
The Great Mass Of Technological Innovation
VivaTech is aimed at all founders of startups/scale-ups, all investors, all experts and all Tech enthusiasts in all fields. The 2023 speakers are prestigious technology leaders, industry experts, and CEOs of international companies and startups who can give us a taste of the future.
Workshops, Conferences And Animations
The topics covered (in English) are 10 in number:
Energy & Climate Tech. Using the power of nuclear fission, finding new solutions to capture greenhouse gasses… all the technologies that can improve our lives more sustainably will be examined.

Scaling Up in a Global Economic Slowdown. All trends, opportunities and markets to watch will be reviewed. Bootstrap, the future of the Unicorns, types of investments to prioritize… nothing will be forgotten.

Cybersecurity in an ultra-connected digital world. Vulnerabilities of current technological solutions, fight against cybercrime, reflection on the existence of digital privacy…

AI is essentially Artificial Intelligence in all its facets. Its impact on our daily life, its possibilities, its ethical issues…

FoodTech, all the technological advances that positively and sustainably modulate the food industry.

Deep Tech. Space, e-medicine, big data… how are these advances shaping our future?

Building Future Societies. Role of Technology in the construction of the social fabric, in education and the professional world.

Creator's Economy, Gaming & Metaverse. The latest creative trends.

Web3. Value of crypto assets, the impact of scams, regulation…everything you need to know about blockchain.

Future of Sports. How can Technology improve athlete performance, the athlete experience and the organization of international events?
Be there to discover the winners of the Next Unicorn Awards 2023 in the different categories (Fintech, Marketplaces, Saas, Digital Media, AI, Deeptech, Big Data and Coup de Cœur-Impact). As a reminder, Vinted, Sorare and Tessian were among the European scale-ups awarded in 2022.
Practical Information
Vivatech will be held at Paris Expo Porte de Versailles – Hall 1 from Wednesday, June 14 to Saturday, June 17, 2023 (9am to 6pm). To attend, you must book a 4-Day Pass in one of the 5 categories offered according to your profile (investor, startup, attendee, C-Level or student). For information, prices start from €210 (Early Bird offer for purchase before April 12).
The official language for all sessions broadcast live on the VivaTech site is English. To access it, there is no need for a pass; all you have to do is create an account with your email address and then connect to your space. Their replays will be available until the end of 2023. The only event in French, the General Public Day accessible to all (by reservation) on Saturday, June 17, 2023.
Paris Retail Week: September 19, 20 and 21, 2023
Paris Retail Week, which takes place over 3 days, is an important business event that brings together retail and e-commerce professionals. It's even the largest omnichannel trade event in Europe and a space dedicated to knowledge sharing. Paris Retail Week 2023 already announces over 900 business meetings and the presentation of 9 Paris Retail Awards, prizes that reward innovations in different categories.
The Meeting Place For E-Commerce And Connected Commerce Professionals
This event, organized for professionals, perfectly meets market expectations and current e-commerce challenges. For this 9th edition, which already records the participation of 45 start-ups, more than 370 service providers and solution providers, the organizers expect more than 19,500 visitors. Exhibitors from key sectors will allow visitors to optimize their logistics, boost their marketing strategy and discover the latest technological innovations for points of sale.
A Rich And Varied Program Awaits You!
Paris Retail Week is divided into stands of innovative companies, plenary conferences, more than 150 solution workshops, as well as around thirty talks & keynotes from mentors. A unique synergy to make your annual benchmark, discover innovative trends and discuss with experts. The 2023 edition promises a richer program than ever and concrete solutions based on value-added expertise. More than 60 speakers will come to animate the event on 8 major issues :
Omnichannel commerce. A global product distribution and sales strategy aimed at using all digital/real channels in an interconnected and seamless way.

Marketing reinvents itself through even more innovative solutions. The key is sharing brand values, optimizing the customer experience and engaging a target audience.

Logistics is essential to shorten delivery times and optimize the flow of goods. All the solutions aim to optimize the customer relationship with an environmental dimension.

CSR is now strategic with solutions to optimize its implementation.

Marketplaces. Their implementation, their added value… to increase sales and companies' visibility.

Payment methods, with new tools, optimization of current processes and loyalty prospects.

The agile customer journey aims to offer the most fluid and personalized online/offline shopping experience possible.

The world of data or how to collect and qualify data to best meet the needs of customers and prospects.
Practical Information
The organizers invite us to meet at Paris Expo Porte de Versailles – Pavillon 4 Tuesday, September 19 (9:30 a.m.-6:30 p.m.), Wednesday, September 20 (9:30 a.m.-6:30 p.m.) and Thursday, September 21 (9:30 a.m.-5 p.m.). To not miss anything, remember to subscribe to the event newsletter. Access to exhibition spaces and conferences is free for holders of an invitation card or a name badge (to be ordered from April 2023 on the official website). It should be noted that the show is strictly reserved for professionals (the general public, students, etc., are not admitted).
Web Summit: November 13-16, 2023 (Lisbon)
The Web Summit in Lisbon (Portugal) is the largest technology conference in Europe. This summit brings together more than 71,000 participants from more than 160 countries around companies and leaders driving change in various sectors. It also has more than 1000 investors, more than 340 partners, more than 2300 start-ups, and more than 2000 journalists… The numbers speak for themselves. This gathering of web giants (Dixit The Wall Street Journal) defines a Tech ecosystem (Dixit The Guardian) where women are represented at 42%.
The Big Meeting Of Technology
This international summit is intended for professionals (heads of companies/startups, investors, decision-makers, etc.) and those passionate about innovation and Technology. It allows access to premium content, finding interesting leads and business opportunities and establishing strategic alliances.
Each year, it brings together more than 1,000 speakers, prestigious speakers from all over the world. Independent experts, CEOs of the largest technology companies and the most prominent startups, cultural icons, heads of state, political decision-makers, financial institutions, NGOs, and international media… have their say. The biggest names in Technology will be at the Web Summit in November, so be there.
A Breathtaking Tech program
The 2023 edition promises to be rich in plenary conferences, question-and-answer sessions, master classes, round tables, workshops and exhibitions (products, solutions, etc.). The final program must still be defined, but the meetings will revolve around current themes, such as professional development in all sectors. Business giants will be present to share their experience and expertise. Also on the program are multiple possibilities, such as:
Create strategic links and enrich your network of partners with international experts. To maximize the experience, the organizers also make a specific application available to participants.

Find potential customers, generate leads or construct a network of prospects among visitors looking for new products.

Conduct market research to inspire you with successful companies or learn to be up to date with technology trends.

Share ideas or seek advice from professionals in your field.
Each day ends with an evening during which participants explore Lisbon's streets and mythical places. This is a great opportunity to create links in a more friendly way. Take advantage of the Night Summit.
Practical Information
The summit will be held in Portugal at Altice Arena & Fil, Parque das Nações (10 minutes from Lisbon International Airport) from Monday, November 13 to Thursday, November 16, 2023. Pre-register now and get a 50% discount on your ticket. Sales start on March 23, 2023, and include the provision of event software. Do not hesitate to subscribe to the summit newsletter to be informed of a preview of the news, the posting of the 2023 speakers and exclusive appointments by invitation.
Paris Blockchain Week: March 20 to 24, 2023
The 4th edition of Paris Blockchain Week is currently being held in the capital. The La Chaintech association brings experts, professionals and enthusiasts around the blockchain world, representing French-speaking players in the field and associated technologies. This major meeting of the crypto ecosystem is a must, with more than 10,000 participants from all over the world and more than 300 sponsors.
The Parisian Event Of The Blockchain Community
The event is intended for all professionals (CEOs, developers, etc.), investors and curious people wishing to learn about blockchain and crypto-assets latest innovations and trends. Paris Blockchain Week 2023 brings together, as every year, more than 400 exceptional influential speakers. What do you think of listening to Joseph Lubin (Co-founder of Ethereum, CEO/founder ConsenSys), Erik Vorhees (founder/CEO of ShapeShift) or even Monica Long (director of Ripple)? A great opportunity to learn, share ideas, do business and participate in building the Internet of tomorrow.
An Exceptional Place For A Special Meeting!
The Paris Blockchain Week (PBW), which brings together several events (Summit, Web3XP, Investors, Talent Fair) as well as competitions (Start in Block, Hackathon), offers multiple programs. All innovative products and services in blockchain, cryptocurrencies, digital assets and decentralized or related technologies are presented there.
PBW Summit. The themes addressed during the plenary conferences range from the builders of Tech to blockchain for companies, including public policies and available finance. 20 Workshops are also offered to participants.

PBW Web3XP to explore and put the power of Web3 at the service of your business development. Implementation of payments, Web3 on the marketing side, art, culture, and entertainment… are presented in practical cases.

PBW Investors. This is a unique opportunity to meet investors interested in Web3, NFT, Metaverse and Blockchain. ‍

PBW Talent Fair. Career-boosting workshops and panels dedicated to industry-leading talent and key recruiters.

PBW Paris is also: Start in Block on the sidelines of Investors Day. A competition that rewards 3 Web3 start-ups.
Hackathon, a weekend that invites over 250 hackers and developers to solve cutting-edge technological challenges under the mentorship of 5 premium sponsors. The key is a trophy for the best project and a spotlight on the Summit stage. And that's not counting the convivial evenings and receptions organized by major partners to facilitate networking. For example, the lucky ones of 2023 could participate in "Google Cloud Women of Web3 Reception" or "Let's kick off Paris Blockchain Week together!"
Practical Information
Paris Blockchain Week is held at the Carrousel du Louvre, an exceptional space in Paris, from March 20 to 24, 2023. The organizers provide visitors with an application to optimize business meetings. You can buy your ticket online (Summit/Web3XP, simple…) and pay in euros or by crypto. Student tickets are available at a reduced rate through partnerships or the Talent Fair every year. Do not hesitate to inquire with your establishment for the next edition because these tickets are limited (first come, first served).
To prepare for your visits, discover the profile of the speakers as well as the list of exhibitors and buy your tickets, go to the shows' official websites. To date, the health recommendations are identical and now classic for all salons, namely, recommended masks, distancing (as far as possible) and regular hand cleaning. Enjoy your visit, and do not hesitate to share with our community other exciting appointments in 2023 for Digital, Tech and Marketing professionals.
Read Also: Web To Store: Def& Examples To Attract Customers To The Store