The Best Digital And Web Marketing Tools For Your Company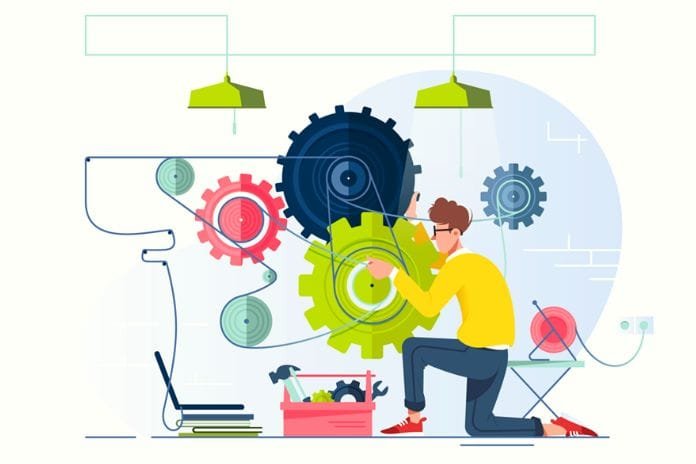 What digital and web marketing tools to consider to build an online presence? How to choose the most suitable ones for your business and your customers?
How To Build An Online Presence: Let's Start With The Strategy
Website, social networks, google campaigns, apps, company blogs. The web marketing tools used to create an online presence for your company or professional activity are often interconnected. Each one strengthens and nourishes the other. We also speak of a digital ecosystem as a system where each element performs a specific function and, at the same time, influences and feeds every other part with its activities and, vice versa, is influenced and provided by what is produced by the others.
How to orient yourself in the panorama of web marketing possibilities, techniques and tools available to build an effective web presence for your company, business or SME? The first thing to do is to define your strategic marketing goals. To do this, it is essential to reflect on the characteristics of your reference market and your customers, particularly their habits and behavior on the web and the needs that emerge in the purchasing decision-making process.
Analyze The Purchasing Process (Customer Journey)
The purchasing process, also called the Customer Journey or Buyer's Journey, can be divided into three main phases:
Awareness

is the initial, informative phase in which the potential customer has a specific need for which he is looking for a solution but is not yet aware of how to solve it. Example: My shirt has a sticky stain that won't come off. I first try to understand what it is and how to remove it.

Evaluation (Consideration):

it is the primary phase in which the potential customer has clarified how he should meet the need and begins to evaluate different options or alternative product categories. Example: I discover a resin stain and assess the other solutions to remove it.

Choice (Decision):

it is the final phase, in which the potential customer identifies and analyzes in detail the different options available on the market to select the one he deems most suitable for his needs. Example: After evaluating the other stain removers on the market, I choose the most suitable one and look for the best brand/retailer to buy it.
Define Strategic Goals
Knowing our target market, the phases of the purchasing process and taking into account that the various web marketing tools have different impacts, it is possible to define the objectives of our web marketing strategy and therefore identify the mix of digital channels to be used for building an online presence for our company. Each company is different, but, in general, we can say that each strategy for creating an online presence can be traced back to 2 macro categories of objectives :
Increase the number of contacts of interested potential customers ( Lead Generation )

Increase the awareness of your company/products ( Brand Awareness ).
The Web Marketing Tools For An Effective Web Presence
Having analyzed the potential customer's decision-making process and clarified the more or less detailed objectives in terms of Brand Awareness and Lead Generation, it is possible to establish which marketing actions to undertake and which digital marketing tools to use to build one's online presence.
The Website: The Heart Of A Company's Digital Ecosystem
Creating a website is the first step to start building an online presence. It is our virtual headquarters; it is "our home", where we have complete dominion over the content. And as all houses reveal the personality and tastes of those who live there, even the site must, first of all, reflect the personality and characteristics of the brand, not only in the graphics and contents but also in the way of presenting them, writing them, organizing them.
Strategically Design The Site
When designing and creating your Website, it is essential to study and plan the menu, sections and contents, taking into account your target audience, your business's characteristics and your marketing strategy. The first questions to ask are
User Experience, Mobile And Security First Of All
Other fundamental aspects of website design are:
User Experience

: a website must be designed, in its structure, graphics and the navigability of the web pages, to simplify the life of visitors. People who visit the site must be able to reach their goal without difficulty and interruptions in navigation. The site must be easily accessible at any time and from any device.

"Mobile-friendly" site

: given the increasing spread and use of smartphones and tablets, it has become essential to make sure that your site can also be easily used by mobile devices, optimizing the contents to the size of the device that the person is using.

Data security:

your site must use an HTTPS communication protocol for data encryption. In addition to the apparent security advantage, we add that with the latest Google Chrome update of July 2018, all sites with the previous HTTP protocol are marked as "not safe".
Among the choices to be made when you create or redo your company website, there are several aspects to consider; we also discussed them in the article " 5 points to think about before remodeling your corporate site web ".
Website Vs Landing Page: The Differences And Advantages
A landing page ("landing page") is a web page that summarizes an offer, a product or a service to encourage the visitor to perform a specific action through a "Call-To-Action", such as, for example, the purchase of a product, the subscription to the newsletter, the compilation of a contact form. To achieve the goals of your digital marketing strategy in terms of Lead Generation, it is essential to add a landing page to the company website.
Also Read: Digital Workforce: RPA Goes Beyond Task Automation
Tools For Positioning On Search Engines
Search engines represent a central element of any digital ecosystem and web marketing strategy, the essential tool for giving visibility to a site and generating traffic starting from a specific topic of interest.
SEO (Search Engine Optimization)

: what it is and what advantages it can bring to companies: Search Engine Optimization or SEO is the set of techniques to make a site as visible as possible among the SERP proposed by a search engine for a particular query. The goal of SEO is to increase site visits through the traffic naturally generated by search engines, also called organic traffic, to increase brand awareness or lead generation. It is a process that requires time and is based, first of all, on the study of a strategy linked to the keywords used by your target audience in the different phases of the purchasing decision-making process.

SEA (Search Engine Advertising)

: what it is and what advantages it can bring to SME companies: if the goal of SEO is to improve the organic (i.e. natural) positioning of a site on search engines for specific keywords, Search Engine Advertising (SEA) techniques aim with the same goal but with paid systems. The most crucial search engines present an online advertising system linked to the search for keywords by users based on the Pay-Per-Click model. In these cases, to maximize the effectiveness of the investment, it is advisable to associate a landing page consistent with the contents of the campaign and the reference keywords to the PPC campaign. Associating a web page that is not relevant or too generic to a PPC campaign would lead to an unnecessary waste of clicks (and, therefore, of the budget).

Google My Business and Google Maps

to improve the online presence of local businesses: Google My Business is a free service made available by Google to support companies in creating and managing their online presence within the Google world, particularly on the engine search and on Google Maps.
Suppose you want to learn more about the features, advantages and differences between Search Engine Optimization and Search Engine Advertising. In that case, you can read the article " SEO AND SEA: what they are and how they will grow your company ".
Content Marketing Tools
Content Promoting is characterized as "an essential showcasing approach that depends on the creation and circulation of meaningful, significant and pertinent substance, to draw in and connect with a particular interest group and, therefore, leading them to take an action that can bring advantage or profit, "which can be, for example, an online purchase or filling out a contact form, online registration or other. In this way, instead of directly advertising your product or service, you provide your customers or potential customers with a series of exciting content that can help them solve a problem or fill a specific need.
The company blog or corporate blog

: positioning yourself online with the content of interest. The company blog or Corporate Blog can be defined as a web communication channel, generally integrated with the company website, in which it is possible to periodically publish articles, also known as blog posts, on some topics regarding the company activity and valuable for your audience. of reference.

Web app and Web widget: Provide content or service on your Website. Alongside the Website and the company blog, other tools for conveying helpful content to your audience are web apps and web widgets, simple applications on a web page accessible via a browser connected to the internet.
Influencer Marketing Tools
Powerhouses are characterized as "people with a much enormous crowd following who can impact the buying conduct of customers by their magnetism and their position concerning specific issues or areas of interest." So what are the web marketing tools useful for engaging influencers?
Contents

: influencers are interested in exclusive or previewed content, thanks to which they can increase their knowledge and experience on a topic of competence (white papers, catalogs, press releases, videos, photos, etc.).

Webinar

: even the invitation to virtual events such as webinars, preferably with limited numbers, can be a valid tool for conveying content, making your brand known and engaging and retaining market influencers

Social groups:

on Facebook and, for B2B on Linkedin, groups can be a valuable tool to interact with the influencers of a sector and provide exciting content to make your brand visible.

Affiliate marketing programs:

affiliate marketing is a communication strategy that is based on the involvement of intermediaries, called affiliates, for example, bloggers, web portals, influencers, and reviewers, who have earned the trust of an audience that follows them and which can present a product instead of the company.
Social Networks
Within our digital ecosystem, an important role is played by social networks. Thanks to their spread worldwide, social networks have become a virtual communication channel for companies that want to improve their online presence and invest in a digital marketing strategy. The tools of social media marketing are:
Company pages

Social groups

Sponsored campaigns
On Which Social Networks To Be Present?
The choice of a brand to be present on one or more social networks must not be casual but reflect the strategy and marketing objectives of the company. For a company that operates in a B2B market, which produces, for example, forklifts, it will be much more essential to create and manage a company page on Linkedin rather than on Instagram. Furthermore, suppose you operate in international markets. Before opening a company social page and starting to publish content, it is essential to reflect on the Social Media Marketing strategy that best suits your company, even with the help of expert consultants.
Direct Marketing Tools
Direct Marketing generally identifies all the marketing and communication techniques that allow the company to communicate directly, without intermediaries, with its customer or potential customer to present its products or services. The most traditional form of offline direct marketing is the so-called telemarketing, the direct contact of a list of potential customers by a telephone operator to offer certain products or services. The web today offers other tools and technologies helpful in managing Direct Marketing activity:
The Customer Relationship Management System (CRM)
It is software for managing contacts and all activities relating to its customers or potential customers. CRM is a fundamental tool for marketing and sales because it is within the CRM where the wealth of data and information the company has collected over the years on its customers and prospects reside.
Email Marketing Tools
Sending emails and newsletters through email marketing software or the company CRM can still be an effective tool for promoting your company and generating leads.
Live Chat And Instant Messaging Tools
Live chats are software that can be integrated into your Website, allowing you to interact with site visitors and respond in real-time to messages and questions in written form. Initially conceived as an online customer service tool, live chats today are an effective communication tool on the web to intercept the needs, doubts and perplexities of site visitors in the different phases of the purchase cycle and to create a direct and interactive relationship with customers…
Mobile Marketing Tools
The use of smartphones and tablets has led to the spread of marketing tools, techniques and strategies dedicated to the world of mobile devices. The primary tool for setting up a mobile marketing strategy is, without a doubt, a mobile-friendly website and, therefore, as we have said, built with responsive technology.
Native Apps
Other tools for conveying content on smartphones and tablets are mobile apps and software applications created to be installed on different mobile devices. Compared to desktop computer applications, an app has simplified functionalities aimed at a specific function to obtain lightness, simplicity and speed.
Advertising And Direct Marketing Tools For Mobile Devices
As regards advertising and direct marketing activities on mobile devices, the tools to consider are:
Google mobile Ads:

within the Google Ads network, it is possible to create advertising campaigns aimed at mobile devices. Text, image or video messages can appear within an app or websites used by your smartphone or tablet.

SMS:

although in our daily life they have been supplanted by new Instant Messaging tools such as Whatsapp, SMS as a marketing tool should not be underestimated. The SMS allows you to reach your potential customers on any mobile phone (not just smartphones) and has a very high reading rate (95%, of which 90% within 4 minutes): unlike emails, it is difficult to delete before being read.

Instant Messaging Platforms:

we have already described using various Instant Messaging applications (notably Facebook Messenger) for your web marketing strategy. In this context, the free WhatsApp Business service is also attractive: a free app with which SMEs can easily interact with their customers, automate, sort and respond quickly to messages.
Also Read: Home Automation, The Smart Home: What It Is And How It Works