What Are The Benefits Of Google Workspace For Retailers?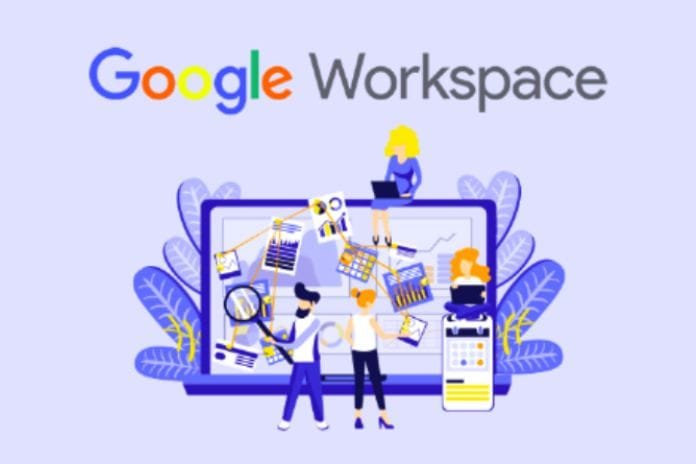 Google Workspace, formerly known as G Suite, is a results-focused suite of solutions developed by the tech giant. With it, you can optimize your process management, reduce expenses, improve your business's internal communication and raise the quality of data protection and digital information in the company.
These resources are essential to increase teams' productivity and remain competitive in the market. Therefore, Google Workspace for retail is a very profitable investment, providing significant benefits with an excellent return for entrepreneurs.
Interested? Read on and see how this set of tools works and how important it is for retail!
How Does Google Workspace Work?
As we already mentioned, Google Workspace is a complete suite developed by the technology giant with essential business solutions to optimize processes. This package has services such as documents, spreadsheets, email, cloud storage, and videoconferencing calls to assist users in their work journeys.
Despite providing a free version of its applications, Google Workspace for companies is a much more robust alternative focused on business management. Users have at their disposal some tools such as personalized email, unlimited storage in Google Drive, and shared calendars, among others.
Due to the solutions it offers for routine business activities, Google Workspace proves to be an excellent investment for those who want to boost their results. Adopting technological tools makes it possible to alleviate obstacles in your journey towards success through genuinely efficient solutions.
How Important Is Google Workspace To Retail?
The time has come for us to show the importance of Google Workspace for retail. Check out some central points of this set and see how it can help your business to grow in the market!
Creation And Management Of Digital Resources
We live in times when digital resources are essential to illustrate your efforts in attracting and capturing new customers for retail. With Google Workspace, it is possible to carry out this entire process practically and safely.
With the right tools, you can develop all the material used to disseminate your business's collections, promotions, and offers. Google Drive, for example, lets you sync all your digital resources directly to the cloud.
Thus, everyone who accesses its contents will have the most up-to-date version of the materials. In addition, Drive's sharing and access control functions are essential to strengthen security — mainly when dealing with outsourced work to external advertising agencies.
Employees Training
Although costly, employee training is a precious process for companies. It is essential to develop hard critical skills and raise the performance of your employees, making them evolve professionally.
Many companies have different units, which ends up increasing training costs — since the process requires expenses with travel, accommodation, food, etc. Therefore, Google Workspace gains excellent prominence in this scenario.
The set of tools provides solutions that allow the entire training process to be carried out remotely. For example, Google Meet supports up to 250 people in a single video meeting.
Thus, users only need access to the Internet and a device with a camera in hand to follow the training provided by the company. In addition to reducing the costs above, accessibility allows teams from other cities to follow the process as if they were at the unit hosting the course.
Information Sharing
Google Workspace is the perfect solution to ensure everyone involved is aligned with the company's goals. The tool provides the best means for users to stay connected with each other, sharing data and information relevant to the enterprise and the expected results.
In this context, Current is a network developed with a focus on business. This tool provides a digital environment in which collaborators can have meaningful discussions toward a common goal.
Building a community within retail is essential when employees work together. The network allows sharing of ideas and information on topics important to the company.
Process Standardization
The Google Workspace toolset is a significant investment in standardizing processes. Its solutions are valuable for companies to optimize how they handle resources such as time and labor.
The importance of process standardization is evident in how companies can play their role in the market through technology. The remote relationship with suppliers or the integration of data from forms in the cloud is an efficient way to achieve great results and increase performance in the work routine.
Another point where Google Workspace stands out is in the positioning of the company's visual identity. It allows the customization of tools and resources, technologically exposing the catalogs in the market.
Real-Time Inventory Control
The collaborative functions of Workspace tools are essential for retail companies to have greater control over their inventory. This way, teams can interact in real-time, updating spreadsheets and ensuring up-to-date data on all movements in the enterprise's warehouses.
Also Read: DevOps: Understand Your Role In The Company